Thread lifting with thread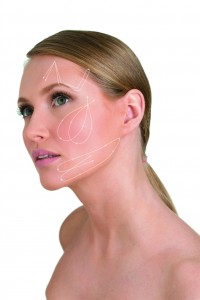 The thread lift is a very effective modern method for the prevention and removal of skin and reduce facial aging.
This method of treatment gives an excellent esthetic result without a traditional surgical procedure. It is important to stress that no general anesthesia and no incision is necessary and in accordance with which leaves no scars. The method is performed with a local anesthetic. The first results can be seen immediately after the operation. These results improve significantly in 3-4 week after the procedure.

Recoverable areas:
Face (forehead, eyebrows, cheeks zone, puppet wrinkles, chin)
Neck and décolleté area
Stomach
Inner thighs
Inner arms
This method is applicable to women and men who lead active lives, value their health, are not willing to invest much time in the rehabilitation and reject a classical surgical intervention.
The simple procedure is done on an outpatient basis. A facelift is performed in about 40 to 60 minutes, the lifting of individual regions will take 10-15 minutes.


Vacuum liposuction
Liposuction (liposuction)
Liposuction is a surgical procedure of aesthetic surgical medicine, in which the subcutaneous fatty tissue is removed and sucked by vacuum using an aspiration cannula. In principle, any region of the body is a potential treatment area, with both cosmetic and medical indications determine the use of the method. Liposuction is one of the most common aesthetic surgery at all and is performed worldwide.

We carry in our practice liposuction only small areas, the local anesthesia (local anesthesia) may be performed. Basically, it is lower chin area and also on the upper arm and areas above the knee.

Following the procedure, the excess skin with thread is tightened.


Contraindications for liposuction
Absolute contraindications:
known allergy to local anesthetics
Relative contraindications:
known epilepsy
taking anticoagulants
severe heart, – lungs, -liver, – or kidney disease
thrombophilia
After surgery
In the first days of a pressure bandage should be worn about 5 days. The patient could be a feeling which have similar to a muscle strain. Sports activities should be initially refrain for 2-3 weeks.
The unpleasant side effects for some days:
hematoma (bruising)
pain, distension
edema – swelling
sensory disturbances in the operational area
Possible complications:
Allergic reactions -. For example, to the anesthetic
keloids – increased scarring
thrombosis – vascular disease, in which a blood clot (thrombus) forms in a vessel
Wound healing disorders due to circulatory disorders
wound infections
Upper eyelid correction
The upper eyelids show over the years usually a significant excess skin and the appearance is tired and. By contrast, only a carefully planned and cleanly executed removal of excess skin helps. Mostly it is about 5-8 mm skin and ewtl. even a small excess fat.
Upper lid tightening is an outpatient procedure and is performed in local anesthesia combined with sedation. It takes about 60-80 min. The next day, plaster strips are removed. On Day 5, the stitches are removed. Local swelling and bruising are more or less possible. Socially, the patient is in 7-10days. As a decongestant action, we recommend cooling and Arnica globules.
 A Blepharoplasty makes a significant rejuvenating effect.